4 Steps To Building A Successful Drop Shipping Business
Building a business can be tricky, and when you're dealing with the relatively uncharted territory that is dropshipping, you need to be especially careful when getting started. Anyone can build a dropship store, but it takes some serious know-how to build a successful one.
That's why today, we're going to dive deep into the fundamentals of dropshipping and prepare you for what you'll have to deal with when working with wholesale dropshippers. By the time we're done here, you'll be armed with all the tactics and knowledge you need to get your dropshipping business off the ground and profitable.
Identify The Right Niche
This is easily one of the most difficult aspects of building a dropshipping business successfully.  Interestingly enough, one of the most common mistakes that people make is thinking that your choice in niche doesn't matter. There's no easy way to say this, so we're just going to say it: your choice is niche is going to directly impact how successful your business is.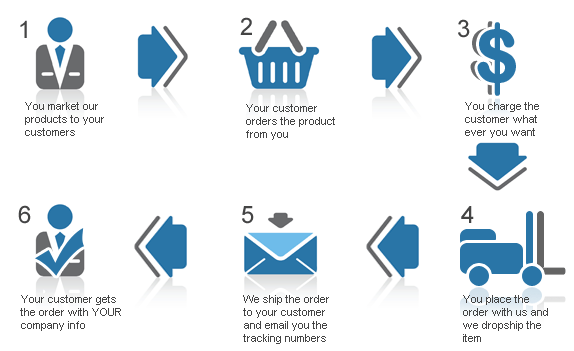 Beyond that, if you don't have a working knowledge of the niche you choose, you're going to find it difficult to make judgement calls when you make decisions. Are these products high quality or are they cheap? Is this price too steep or a great deal? These are questions that drop ship business owners have to ask themselves on a regular basis. Without a background in your chosen niche, you're at the mercy of luck.
So, first rule of identifying the right niche: make sure you're familiar with it. If you know the e-cigarette market, sell the Juul. If you're not familiar with any niche that actually sells profitable products, make sure you do plenty of homework before you actually start selling anything.
If you still can't find a good niche, take some time to think about the type of consumer you'd like to sell to. What kind of problems are they dealing with on a regular basis? Identifying pain points can be a powerful tool in the world of dropshipping.
Pick The Right Supplier
An aspect of dropshipping that most people don't pay much attention to is picking your wholesale supplier. And make no mistake about it, this right here is one of the cornerstones of your business. Everything from your selling price to your profits are going to be impacted by this, so make sure you take the time to make the right decision here.
Fortunately, you can make the job significantly easier for yourself by using wholesale search engines to quickly identify who you'd like to be your supplier. But before you run into an arrangement with the first supplier you see, make sure that you're considering whether or not this will be a good fit for the both of you.
Figure out how long it takes for an order to actually be shipped once it's been placed. Ask about their shipping methods and what kind of tracking systems they offer. Figure out if they offer warranties, have quality control systems in place, and even whether or not they're able to provide you with updated product photos.
There may seem like minor issues, but the reality of dropshipping is that your profits are found in these margins. Paying attention to the minor details is the foundation for running a successful business.
Choose The Right Platform
Your choice in selling platforms will, to put it lightly, have a major impact on how successful your business is. Are you going to choose Amazon? Their massive online marketplace is unmatched. Plus, the fact that they're a retail marketplace means that Amazon has a noticeably better venue to sell mass market goods.
Or maybe you'll choose eBay, since it's such an easy marketplace for beginners to navigate. And to be fair, it's one of the best ecommerce platforms to start with. But there's no reason you have to choose either of them if you're not in love with the platforms. Sites like Bonanza are perfect for new dropshipping businesses, too.
Better yet, it may be in your best interest to diversify when you're selling on online auction sites, since each site will end up having its own unique audience. And with most sites being free to join and use, there's no downside to giving the alternatives to the big platforms a shot.
Pick The Right Way To Market Your Business
If you're starting a dropshipping business from scratch, you'll quickly figure out that you simply don't have nearly the attention or traction you need to properly promote your business. With or without competitors, you're going to end up having an uphill battle to promote that store. Which begs the question, "how should I go about marketing my shop?"
There are a few tactics you can use. One of our personal favorites is leveraging the power of social media marketing. The truth is that when done correctly, you can convert potential buyers, build brand authority and cultivate a community for your store all at the same time. To do this, focus on 1-to-1 interactions, treat your social media profiles like a public customer service center, and above all else, resist the temptation to bombard your audience with ads.
Your business exists to solve a problem, so make sure whenever you bring up your products, it's in service to someone else's needs, not your own.
What strategies are you employing to effectively manage your dropshipping business?