What You Need to Know About Student Loans
School is back in session and the one thing that might be on your mind is taking out a student loan. Federal student loans are a great way to get a low cost loan to pay for school expenses or even take care of other living expenses while you are in school and unable to work as many hours while you get your education. Not to mention, how many loans can you get that will allow you to pay the bare minimum in interest without having to have good credit to qualify? While all things may seem to point to student debt being the smartest choice for your financing needs, there are a few things you should know before deciding that a student loan is the right choice. Here are a few things that The Department of Education wants you to know about student loans (https://www.forbes.com/forbes/welcome/?toURL=https://www.forbes.com/sites/zackfriedman/2017/02/21/student-loan-debt-statistics-2017/&refURL=http://www.bing.com/search?q=credit+card+debt+statistics+2017&qs=AS&pq=credit+card+debt+stati&sk=AS1&sc=8-22&cvid=E0883E0945AB429C99F8E5FB4B9721A7&FORM=QBRE&sp=2&referrer=http://www.bing.com/search?q=credit+card+debt+statistics+2017&qs=AS&pq=credit+card+debt+stati&sk=AS1&sc=8-22&cvid=E0883E0945AB429C99F8E5FB4B9721A7&FORM=QBRE&sp=2 )
1. Federal vs. Private Loans
The first thing you need to know about student loans is that there are several types. There are options that are federally funded and those that are not. Federal student loans are made by and managed by the federal government. These are designed to be accessible by all students regardless of background.
Private loans, on the other hand, are made by private lending institutions. Each lender has their own criteria when it comes to making education loans, meaning that many students won't be able to obtain these for multiple reasons.
Most students opt for federal student loans because they are easy to get, offer low interest rates and don't require repayment until after you graduate.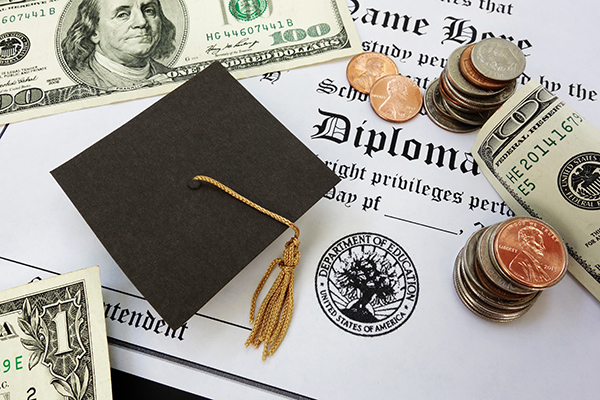 Unsubsidized vs. Subsidized
Federal loans offer two options when it comes to education financing: subsidized and unsubsidized. A subsidized loan means that you don't have to pay interest on the loan the entire time you are in school. The government does that for you. All you have to do is stay in school at least half time and continue to be eligible under the terms of the loan. Unsubsidized loans, on the other hand, begin accruing interest when you take them out, just like other loans. While you don't have to begin making payments until you graduate, know that interest will be accruing the entire time you are in school.
Loan Interest Rate
Federal student loans, both subsidized and unsubsidized, will carry the lowest interest rates for any education loan. The rate charged is the prime rate that was applicable when the loan was taken out. This rate can vary from loan to loan, meaning that one student loan may have a 5% rate while another one may have a 6% rate, but the rate does not vary throughout the life of the loan.
Loan Length of Repayment
As with any other loan, your student loan will have a set time in which it has to be repaid. This is known as the length of repayment. The longer this term is, the more you will pay in interest. It does, however, mean a lower monthly payment, which might be beneficial for you just starting out on your new career path. The typical student loan will carry a 10 year repayment schedule, but some can be taken out for 30 years or even longer. You can choose the schedule that works for you and there is no penalty to switch repayment plans while repaying, which means that you can alter the monthly payment based on your ability to repay.
Federal loans typically follow a ten-year repayment plan schedule, but depending on the type of repayment plan, your length of repayment could last as long as thirty years. One key benefit of Federal loans is the ability of the borrower to switch repayment plans without penalty. If you find a given repayment plan too difficult, research your options regarding extended repayment plans to determine if one is right for you.
5. Monthly Loan Payments
Each loan that you take out will have a monthly loan repayment due. If you feel as if you can't repay them because the payments are too high, it is important to seek help fast. There are options you can pursue including forbearance, income based repayment options, and more. You can also combine all of the loan payments into one single payment using the loan consolidation option.
consolidatestudent.loan is ready to help you with your student loan consolidation needs. Visit today to learn how.
consolidatestudent.loan is an organizaation that is ready to help you consolidate your student loans in order to lower your payments and decrease the burden they place on your monthly budget.